Features
Last Published
July 14, 2020
Records365 Features
The following table describes what features are included in each Records365 plan. For more information on Records365 plans please see Commercial Model.
Records365 Plan
Feature
Starter
Standard
Enterprise
Electronic Record Management
Electronic Records & Folders
Binary Protection
Resubmit
Reschedule
Physical Records Management
Physical Boxes, Folders, Parts & Records
Physical Profiles
Physical Loan Request Management
Physical Location Management
Physical Labels
Physical Scanning
Search
Advanced Metadata Search
Saved Searches
Record Export
History
Record Version History
Record Audit History
Retention
Global File Plan / Business Classification Scheme (BCS)
Metadata-based Retention Triggers
Classification
Metadata-based Classification
AI-based Classification (Classification Intelligence)
Legal Holds
Legal Holds Management
Disposal
Physical & Electronic Disposal Workflow
Disposal Approval Workflow
Role-Based Access Control
Azure AD Federation
Security Profiles
Security Trimming
Reporting
Basic Reporting & Analytics
Records365 Connectors
The following table describes each of the Records365 connectors that are currently available. For more information on essential and premium connectors please see Commercial Model.
| Connector | Essential | Premium |
| --- | --- | --- |
| SharePoint Online | |   |
| OneDrive for Business | |   |
| Dropbox | |   |
| Box | |   |
| SharePoint On-Premises | |   |
|   |   |   |
| FileConnect (for network shares) |   | |
| Exchange Online |   | |
Service Responsibilities
The table below outlines the high-level areas of RecordPoint responsibility and customer responsibility across the Records365 service.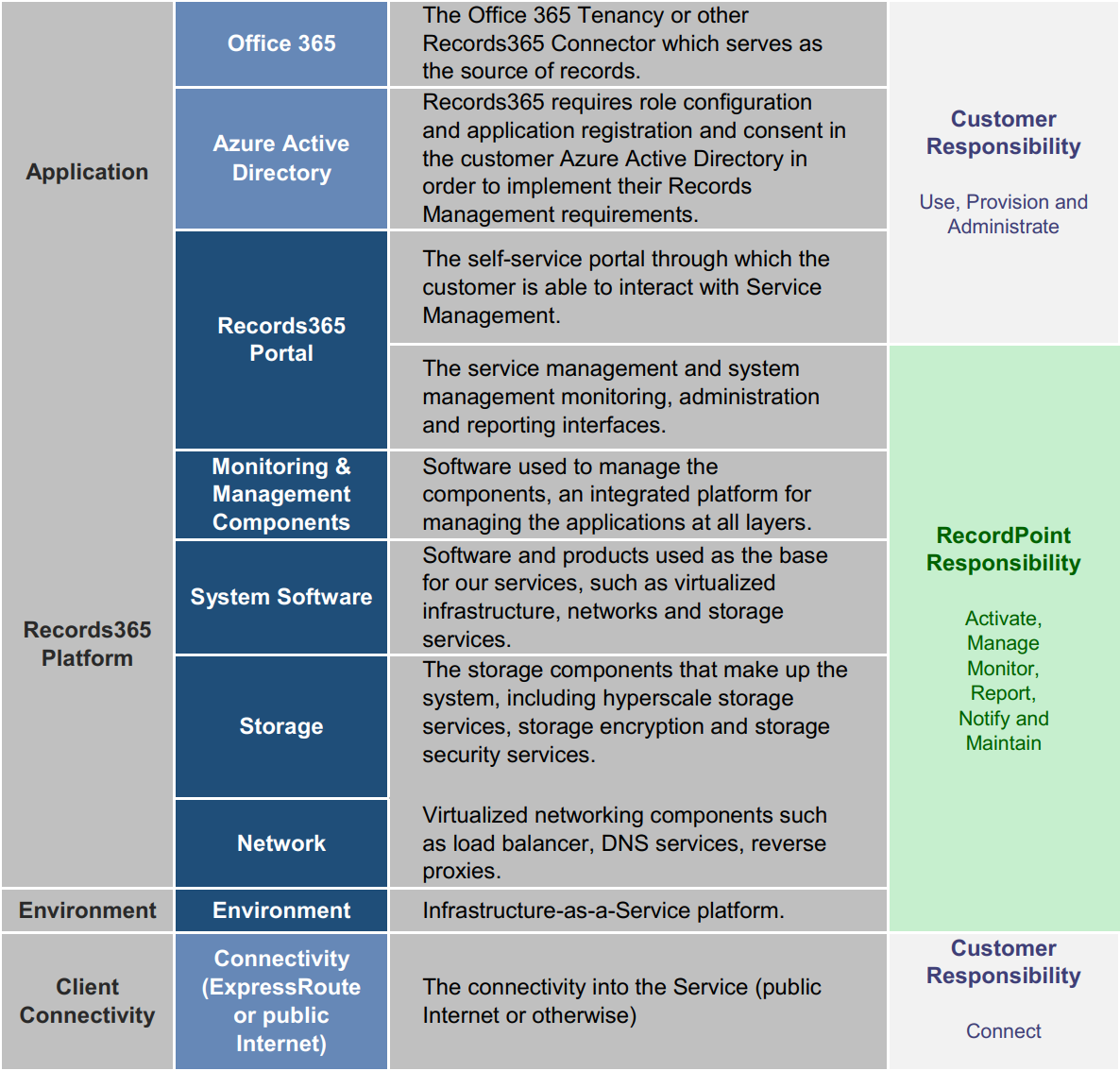 Service Exclusions
In addition to the boundaries of the service defined in the section Service Elements, the Service specifically excludes the following:
Office 365, other content sources or Records365 configuration and solution onboarding.
Data migration and initial records submission.
Network access or interconnection.
Identity federation.
Customer-specific security requirements.
Custom certificates and other customer specific hardware and software requirements.
Customer-specific solutions or system integration.
Any item not explicitly described in the section Service Elements.